Discriminative stimulus – two very big words. What do they mean and why should you care?
First, let me give this reminder. Living beings are continually learning from their environment, and by LEARNI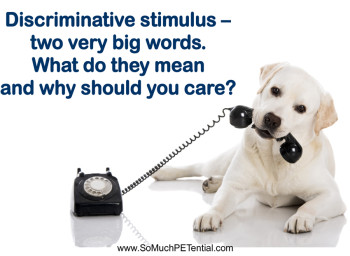 NG, what I mean is they are changing their behavior based on the consequences of their behavior. Past experience dictates the future rate of a behavior. They repeat and even strengthen behaviors that get them something of value, and the rate of their behaviors decrease when a consequence of value does not follow the behavior.
That being said, a stimulus is simply a physical environmental event that affects or is capable of having a measurable effect on behavior. And discrimination is the tendency for learned behavior to occur in one situation but not in other situations. (Learning & Behavior, Paul Chance) Therefore, a change in the environment known as a discriminative stimulus becomes a cue for that behavior to be set into motion.
An example of this is the dog who may jump and scratch at a door when the doorbell rings because he has learned from past experience that immediately following his behavior, the door opens and great people walk through. The doorbell then is a discriminative stimulus for jumping and scratching at the door.
Okay, so let me delve into this further. Maybe your dog has learned in this same way that at approximately 2:00 pm every day, your mail will be delivered which means a scary mailman will be walking in front of the window where your dog looks out. And the sight of that mailman sends your dog into rapid breathing and frantic barking until the mailman walks away. Very stressful.
In anticipation of the site of the scary mailman, that dog may begin to pant and pace around that time of day because past experience has taught him that at about 2:00 pm a scary man will more than likely walk up to the house. So, 2:00 pm has become a cue or a discriminative stimulus for the dog to begin watching out the window, possibly with heightened alert and tense body muscles. (And, by the way, the site of the scary man has also become a cue for barking which then causes the mailman to walk away – or at least that is what experience has taught the dog.)
If your dog was home alone (with access to the window) and you arrived at about 2:15 to find your dog panting and wet from slobber, you may come to the conclusion that your dog had separation anxiety or your dog was mad at you for leaving. Only a closer look at the environment would help you detect what really happened. Then you can work on a plan managing your dog's ability to see the mailman or change where the mailman delivers the mail (maybe a street mailbox) while you are teaching your dog a positive association with people coming to your mail slot and a different, acceptable behavior to do instead of frantic barking.
Another example is your dog learning to bark or nudge you with his nose, or a bird screaming when you sit at a desk and pick up a hand held phone. Your picking up the hand held phone when sitting at a desk then has become the discriminative stimulus or cue for your pet to begin his attention seeking behavior. Once you know that then you can work on a plan to teach your pet an alternative behavior to do when the time comes for you to pick up that phone, and practice that BEFORE the unwanted behavior is set into motion.
My challenge to you is this: The next time your pet is doing something you do not like, look at the behavior in the context of the environment. If there is something that is inadvertently cuing your pet's behavior, ask yourself if there is something you can do to manage the environment so as to prevent practice of the learned behavior, or teach a different meaning for that cue.
If this is helpful to you, please consider sharing it.