When it comes to modifying a pet's behavior, my focus is always on the most positive least intrusive solution. I look at what is happening in the environment to set that specific behavior into motion in the first place,
what the consequences are to that specific behavior that are maintaining or even strengthening it, and what can be changed both in the environment and in terms of skills that can be taught to set that animal up for success.
In scientific terms, I use applied behavior analysis. Applied behavior analysis is a systematic approach to solving behavior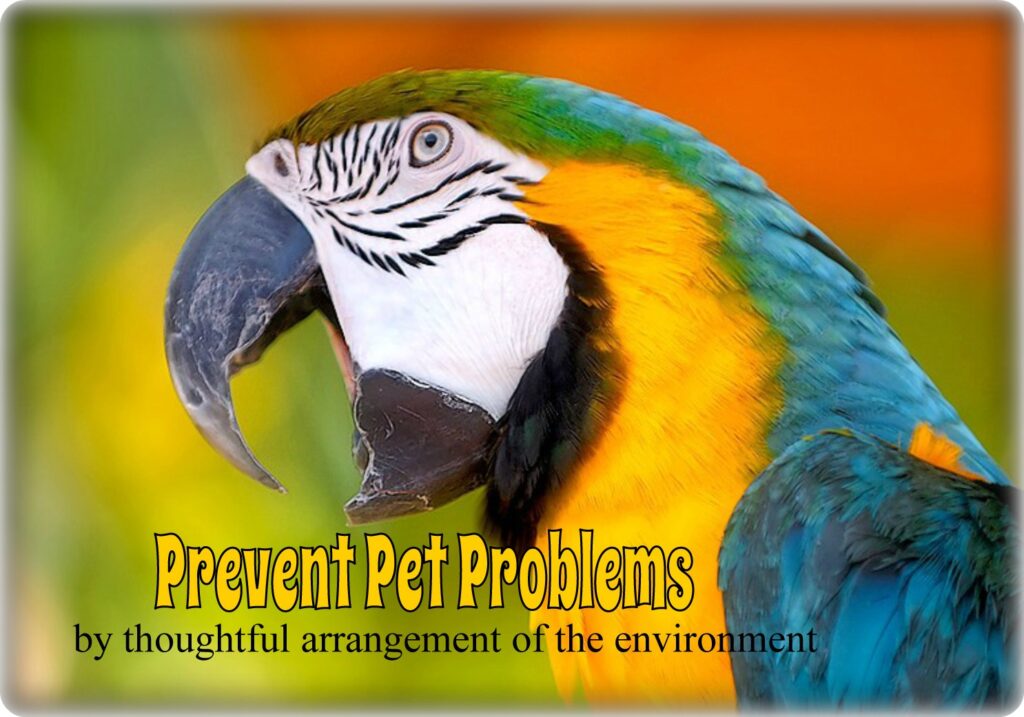 problems by changing the environment in which the behavior occurs. It involves looking at the very specific behavior (such as a bird biting or a dog barking) and the related environmental context that signals and reinforces it. We ask, "What happened *immediately* prior to the behavior (antecedent) to set the whole ball rolling?" And, "What happened *immediately* after the behavior to reinforce it (consequence)?"
But for the purposes of this specific post, I want to focus on the problem behavior prevention piece – or antecedent arrangement. This is very important because practice with any behavior builds confidence and fluidity.
When I look at modifying an unwanted behavior with a pet in the most positive way, I look at what function that behavior served to the animal and what skills that animal needs to learn to solve the problem. While teaching a pet those skills (replacement behavior) that can give the pet equal to or more reinforcing value than the unwanted behavior, managing the environment so as to not give the pet opportunities for reinforcement of the unwanted behavior is going to help both of us succeed and succeed much quicker.
And, when I talk about changing behavior in the most positive, least intrusive way, there are many times where careful management of the environment so as to not set that behavior into motion in the first place is all that is needed.
For example, if I know that my using a hair dryer is an antecedent for my bird's screaming, then I can give him something to occupy his attention before turning on my hair dryer, or I can simply use my hair dryer in another part of my house. If I know that my dog is going to be over the top with excitement when company comes over, I can take my dog for a long walk first to lessen the value of over the top behaviors.
My challenge to you is this – when you think about your pet's annoying behaviors, think about what is occurring in the environment to set those behaviors into motion. Are there simple changes you can make to prevent that chain from occurring?
Can I be of further help to you and your pet? Please contact me!
If this is helpful to you, please consider sharing it.