Since my focus is on training and modifying behaviors in the most positive ways, I am always thinking in terms where the value is for the learner because the way in which you build value for a particular behavior, is by having that behavior followed by something the animal wants. This is teaching with positive reinforcement.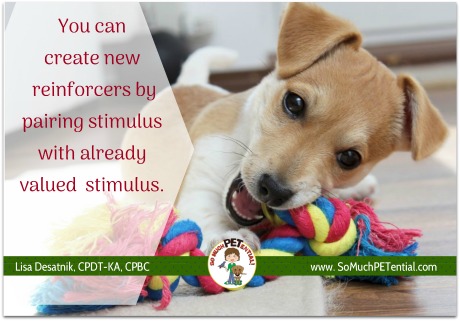 And that Awesome List as I like to think about it is ever changing. At one time of day your pet may value resting while at another time your pet may value a game of chase. The list could include the opportunity to go outside, food items, toys, attention, sensory stimulation, even distance from something aversive (although for this post, I am going to focus on the positive).
While food is good for shaping exercises because it can be delivered and eaten quickly for faster timing, having a variety of reinforcers to choose from in any particular training scenario makes you unpredictable and more engaging for your pet. Not knowing what cool thing is going to happen but knowing that SOMETHING great is going to happen as a result of doing a behavior sure can help to keep your student in the game.
You actually can create more reinforcers from the reinforcers already in your list. How? Using classical conditioning. Classical conditioning is a reflexive type of learning where one stimulus acquires the capacity to evoke the same response as another stimulus.
Remember that it is the stimulus that occurs AFTER something that affects the emotional response of what comes BEFORE it. Having said that, with enough pairing of the presentation of a toy, for example, before the presentation of a valued leash, over time, your dog will come to value that toy because it has become associated with the leash. (Show your dog a frisbee – you do not need to play a game, just show the frisbee and put it down, and then take out the leash.)
Experiment at home and see how you can create new reinforcers. The opportunities are endless!
Can I be of further help to you and your pet? Please contact me!
If this is helpful to you, please consider sharing it.