Chris Pike remembers that moment like it was yesterday. He and his wife, Eileen, were in town to celebrate Chris' birthday with his family. Their longing to share a home with double the joyous, childlike antics of a golden retriever took them to a farm that was ironically in the neighborhood of our region's hub for adventure – Kings Island.
And there he was. A 10 week old, cream colored teddy bear who bounced as he ran straight into the arms of the couple whose home and hearts were to be one with his for the rest of his life. Skyler had a way with women. Truth be told, he had a way with everyone. It was his beautiful, magical gift that he was brought into this world to share.
Kiara too filled her world with love. Every day was an adventure, a new opportunity to explore and new people to meet.
Sadly those gift was brought to an end by a disease that takes the lives of one out of three dogs. Canine cancer, Chris learned, was actually fairly common especially in golden retrievers. In fact, cancer took the life of not just one but two bundles of sheer happiness from the Pike's household.
Today, the legacy of Skyler and Kiara is in the hard fought battle of Chris to wage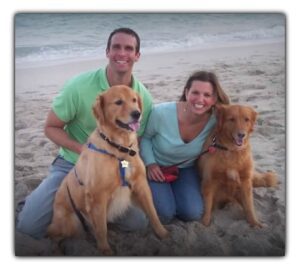 a war against that deadly enemy.
Chris is the vice president of marketing and promotions for the National Canine Cancer Foundation, a national nonprofit organization that provides grants to researchers working to save lives, find cures, improve treatments, and develop more accurate and cost effective diagnostic methods in dealing with canine cancer.
The Foundation continues to grow. In fact, over the past four years, it has surpassed each year prior in terms of funds raised and they just reached over $200,000 that will be ready to fund 2014 grants.
You can help them on their quest to eradicate cancer.
The 2014 Cincinnati Pup Crawl
For one day – Sunday, April 28, 2014 from 11 am to 5 pm – Oakley Square will be transformed into Barkley Square. Hundreds of dogs and their humans will spend the afternoon mingling, playing games, tasting food and raising money toward critical research that has the potential to impact many of those participating.
How does it work? Well, when you arrive you will receive a map of all the participating businesses such as the Oakley Pub and Grill, Habit's Café, Fresh Market, Oakley Wines, The Oak Tavern, Skyline, Aglamesis Brothers Ice Cream, 20th Century Theater, Mama Mimi's Pizza, and King Arthur's Court.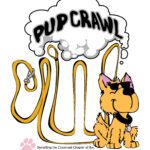 If you don't have a dog or would rather leave your dog at home, that is fine too. If you would like to borrow a dog for a day, Recycled Doggies will be on hand to rent out adoptable dogs for an hour at a time.
Cost to attend is $25 per person and $5 per dog. Registration includes a gift bag, t-shirt (no guarantee on sizes), and freebies at many of the stops. Oakley Square – Geier Esplanade 2980 Madison Road Cincinnati, OH 45209
To learn more, please visit: http://www.cincypupcrawl.com/
It sounds like a blast. I for one can not wait to be there with a booth. I sure hope you will join me – and if you come, please stop by my booth on Oakley Square (oops, I mean Barkley Square) to say hi.
"The passion that moves us forward is from experiencing what Cancer really does to the ones we love. We are driven because there is a hole in our soul where once was the love of our dog." Gary D. Nice, president of the National Canine Research Foundation.
If this is helpful to you, please consider sharing it.