Have you seen Santa Paws 2: Santa Pups? Such a beautiful, light-hearted movie with a tender message of love and hope is one that should be included among family traditions.
In the all new Disney holiday classic, four frisky Great Pyrenees puppies – Hope, Jingle, Charity, and Noble – who nearly destroy Santa's Workshop with their mischievous frolicking, decide they want to prove their responsibility. They want to spread the Christmas spirit all by themselves, and so, they stow away on Mrs. Claus' sleigh as she journeys to Pineville. It is in the city of joy where the Santa Pups begin granting wishes with the help of a magic crystal, only something goes horribly wrong when a little boy wishes for the Christmas spirit to go away. And it does…across the world. Only Mrs. Claus and the puppies can reverse the spell.
The movie stars Danny Woodburn as Eli Elf, Cheryl Ladd as Mrs. Claus, four puppy Pyrenees, and of course, Anastasia as Eddie (he would be the very smart Jack Russell Terrier who is the sidekick of Danny).
In an earlier blog post, I interviewed Danny about working with a dog as a co-star. In this post, Doree Sitterly (owner and trainer of Anastasia) shares her insight about what it is like to be a trainer for movies.
Behind-the-scenes at Santa Paws 2
One of my first questions for Doree was about how they made the dogs' mouths move. That process has evolved a lot since the days of Big Top Pee Wee, she told me. "In those days we taught the animal to move its mouth and had a clever voice over actor who knew their dialogue, and could make funny sounds as they watched the film of their animal counterpart," she said.
By the 1990s, Doree worked on a Nickelodeon series where the technology required the dog's mouth to be closed during every scene. If you have ever spent time around dogs, you have got to appreciate the difficulty of that task for trainers. "They had to keep the set extremely cold because the dogs couldn't pant. Or if we were shooting an outdoor scene, I had to train the dog to hold a piece of leash in his mouth while he performed the rest of his cued behaviors," Doree told me.
For Santa Paws 2, one of Doree's greatest challenges was actually the wardrobe. After all, it is not natural for dogs to walk around wearing hats on their head and coats over their body, and especially little elf shoes. In addition to teaching Anastasia her behaviors, Doree needed to gradually desensitize the little actor to wearing booties using positive reinforcement strategies.
Training, Doree explained, starts as soon as she is given the script which could be months, weeks, days or even hours from shooting. "You get your script and you write down every behavior you need, and where those behaviors will be used in the shooting schedule. If I have four months to prep, I will start teaching everything. If it is for a major motion picture, then you let some things go and focus on what behavior will be needed first. Still, there are a lot of script changes that happen with little to no notice so you have to hope that you have trained your dog well enough to be flexible," she said.
How is training a dog for a movie different than training a dog to live in your home, you may ask? Well, one difference according to Doree is that, "for movies, I have to train animals to do so many things that I normally wouldn't want a pet to do like run into the middle of a busy street or attack someone (at least 'act' like it is attacking someone."
Another difference – in three words: distance, duration and distraction. "We have to be able to work with our dog from a certain distance, and we may be required to do 20 or more takes of the very same behavior," Doree said. "Our actor dog must also be able to work in a world filled with extreme distractions."
If you are wondering about the welfare of the animals on movie sets, no need to worry. The American Humane Association is always there to help ensure they are comfortable, safe, and have plenty of rest. "Everyone on the set including us as trainers are very aware of making sure the animals don't work too long," she said.
So, I had to leave with one last question…I wanted to hear Doree's perspective on why training with positive reinforcement is important.
"It is the ONLY way to train," she told me. "If you want to bond with your dog and have a happy pet, you have to make training as positive as possible."
About Doree
In Doree's career, she has trained small dogs, big dogs, house cats, BIG cats,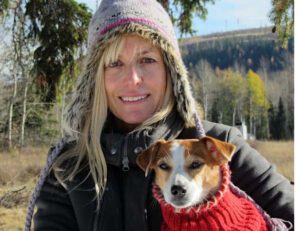 rats, ferrets, birds, bugs, you name it. She worked with Animal Actors of Hollywood from 1982 to 2002 and is now a freelance studio animal trainer. She was one of nine trainers on the set of Santa Paws 2, and was contracted through a company called Birds and Animals.
Among Doree's credits are Out of Africa, Beverly Hills Chihuahua, Big Top Pee Wee, Home Alone 2, and Marmaduke on the big screen; and Friends, Full House, Quantum Leap, and New Adventures of Old Christine on television.
If this is helpful to you, please consider sharing it.