(This one of my past Hyde Park Living columns.)
Many unwanted behaviors like pulling on a leash, growling, barking, or biting are blamed on dominance. "They've got that alpha dog thing going on."
Well, as Susan Friedman, Ph.D., has taught me, dominance is nothing more than a label for a behavior – a description of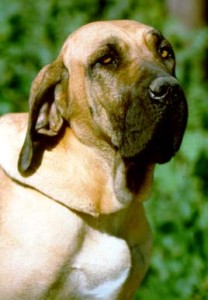 what we as humans 'think' explains the problem behaviors we have with our pet. The problem is, a label is simply nothing more than an intangible explanation that doesn't even specify what the observable behavior is or the condition in which it is behaved.  Behavior plus conditions is the smallest meaningful unit of behavior analysis. And, unfortunately a label ultimately leads to a self fulfilling prophecy because how we react and how our animal responds to our actions leads to stronger behaviors. Giving behaviors labels stops us from our search for finding a positive solution for modifying that behavior.
How does the self-fulfilling prophecy come to play in talking about the alpha dog? Well, a couple months back I wrote about the dangers of using a technique called flooding (a form of training in which the animal is exposed to an aversive stimulus with no possibility of escape until the stimulus no longer arouses anxiety – labeled as dominance – in the animal).  One claim is that you should force your puppy onto its back, not letting him up until he stops resisting. Some may say that is teaching your dog to be submissive but behaviorists will say that is creating learned helplessness, and if you are looking to build a strong, positive relationship with your dog – that is not the way to do it.
I digressed. So, this 'alpha dog' concept – it stems from studies of wolf packs in the 1940s. Dr. Ian Dunbar, founder of the Association of Pet Dog Trainers: 1) Those studies were short term and focused only on the most obvious facet of wolf life – mainly hunting. 2) Researchers observed what are now known to be ritualistic displays and misinterpreted them. 3) Researchers made some wild extrapolations from their data.
The fact is, dogs are to wolves what chimpanzees are to humans. They became a separate species well over 100,000 years ago. In that time there has been domestication, co-evolution with humans and selective breeding.
Behaviorists like my teacher and mentor Susan Friedman, Ph.D., and trainers who I've studied from such as Steve Martin, Barbara Heidenrich, and Susan Garrett instead focus on setting animals up for success. They look at the specific behavior to be modified or taught in terms of the purpose that behavior serves the animal in its environment. They reinforce behaviors they want to see. And they empower animals by putting the power of choice in the animal's control and simply modifying the consequences (and/or the antecedents) to make the desired behavior the best choice.
So, let me recap. If you really want your dog to do what you want him to do, stop labeling him as dominant and stop using the excuse that he is a pack leader alpha dog. (Or that you have to be the alpha dog.) Instead, see yourself as a teacher and your dog as your student. Every unwanted behavior is an opportunity to teach a new skill.
If this is helpful to you, please consider sharing it.