It is not unusual for Craig Beachler, a medical device representative and territory manager, to drive hundreds of miles in between hospitals every week. After all, an important part of his job is being there during surgeries to ensure doctors don't run into any snags when it comes to using his company's products.
And good thing for Craig – or I should say Captain – that hospitals happen to have covered parking because where ever Craig travels for work, Captain travels too. A large dog bed in the utility vehicle's back makes the long drives comfortable. By the way, Captain is Craig's large 60 pound plus mixed breed who knows how to open door knobs that aren't securely locked.
The roommates live in a downtown Cincinnati apartment surrounded by large buildings, busy streets and lots of concrete…but no grass. Lucky for them, there is a dog play area in the neighborhood called Fido Field.
Okay, so really, it's not because of luck that they have a place to run and play fetch.
One man's determination.
The year was 2005 when Craig and his dog (then a different dog) moved to downtown Cincinnati for a job at P&G, but there weren't a whole lot of options close by for people and their pooches.
If you've ever met Craig, you know he's not one to sit back and not take action on things that are important to him.  He met with city leaders. Together they found a site on Eggleston Avenue and began drawing up plans for a dog park, but when the economy took a hit the park was no longer a city priority.
So Craig was given the plans and moved forward independently, recruiting volunteers and raising money on his own. A lofty endeavor seeing as the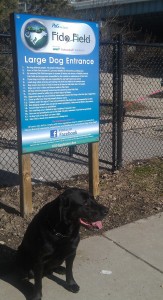 budget he came up with for it was over $300,000. Procter & Gamble was the largest donor – giving Craig $50,000 toward the park.
Fido Field has been open now for several years and the responsibility continues for Craig, who continues to fundraise and spends time on weekends maintaining it with help from friends. Among them are Erin Kidwell who is helping with communications and Tiphanie Hodges who helps with special events.
Fido Field is located at 630 Eggleston Ave; 45202. Donations and volunteers are always welcome. Please visit their Facebook page for updates.
If this is helpful to you, please consider sharing it.