I talk a lot about the power of consequences when it comes to determining the future rate of a behavior which is especially important to preventing and solving dog, puppy and parrot behavior problems in positive ways. However, it is also important to understand the role of antecedents (what happens before a particular behavior) in setting the occasion for the behavior to occur in the first place.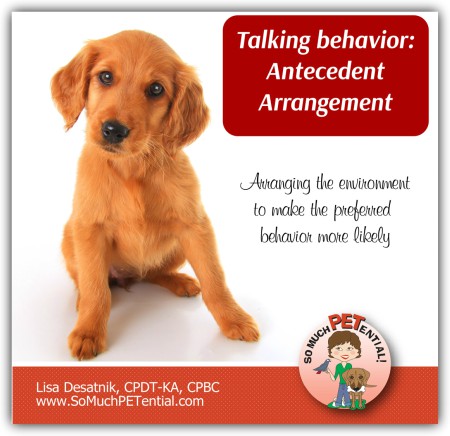 Both antecedents and consequences are part of the environment that surrounds and influences behavior; and both are considered when using Applied Behavior Analysis, a systematic approach to solving behavior problems by changing the environment (not changing the animal).
For today, I want to focus on antecedents.
Antecedents are classified as either distant or immediate. Distant antecedents are medical, nutritional and physical environmental variables that may impact the onset of a behavior. Some examples include pain from injury or illness, time of day, trigger stacking, noise and other distraction levels, temperature, or lack of sleep. Immediate antecedents are what occurs *just* before the behavior that sets the behavior into motion. Some examples could be proximity of hand to a dog's mouth (before a growl) or a bird's beak (before a bite); phone ringing (just before dog barks or bird screams); or loud noise (just before dog digs in his cage or runs).
In Dr. Susan Friedman's Humane Hierarchy, she ranks training methodologies from least intrusive for the learner to most intrusive, with Level 1 being the most socially acceptable and giving the animal the highest amount of control. Can you guess what she categorizes as Level 1 and 2? Yep, Level 1 is distant antecedents and Level 2 is immediate antecedents. "The overwhelming majority of behavior problems can be prevented or resolved with one or more strategies represented in Levels 1 to 4," she wrote in a paper.
How do we use these in practice? Here are some examples.
Addressing distant antecedents – If your dog suddenly growls at you when you touch its tail, it could be that your dog is experiencing pain and should be looked at. Puppies that bite a lot or zoom around the room may need more sleep. Dogs that eat socks and rocks (known as pica) could have an underlying medical condition that should be tested for and treated. A dog that lunges at someone who, in prior experiences, it had solicited scratches from, may be tense from a series of unrelated stress inducing occurrences.
Addressing immediate antecedents – This can include either adding or removing discriminative stimulus (or environmental cues) that you do not want to see such as de-attaching a door bell while you are working on teaching a dog a different response to arriving people ; redesigning the setting events for the behavior such moving a bird cage away from a window sill so that the bird won't chew on it, giving your dog a plushy bed to lay on so that your dog will choose that resting location more (and you can add value to that decision by giving your dog something it values while on that spot) or keeping your dog on leash when you know your dog will not come back to you if given a choice; or changing the motivations (or motivating operations) such as giving your puppy exercise so that it will value resting before putting it in its crate or saving your dog's favorite treats or toys only for training time so that your dog will value the treats and toys more.
Both antecedents and consequences are important for preventing and solving pet behavior problems. There are times when antecedent arrangement alone is enough. However, the solution involves teaching new behaviors while using antecedent arrangement to prevent practice of the unwanted behavior in the process.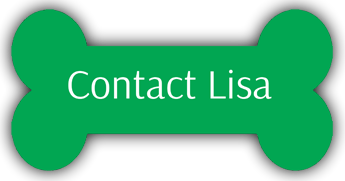 If this is helpful to you, please consider sharing it.