What a wonderful idea for helping us to help our pets succeed.
So important to bite prevention and quality of life issues for companion dogs is the ability of people to understand how dogs communicate with their bodies AND to give power to their dogs' nonverbal voices.
Unfortunately many people don't speak dog or don't pay attention to dog language (which is why I am working to educate people).
Canadian dog trainer Tara Palardy has started a movement around the world called the Yellow Dog Project to alert people when a dog is uncomfortable, fearful, or aggressive (usually fear aggression). The idea is simple. If your dog doesn't want to be approached, put a yellow ribbon on his collar to signal caution to strangers.
An important note to this:  Even the most friendly of dog has its threshold. Just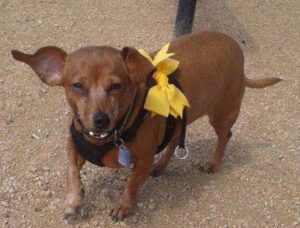 because a dog loves people does not mean it will not tolerate all handling and all situations. If a dog growls, respect that body language and back away.
If this is helpful to you, please consider sharing it.