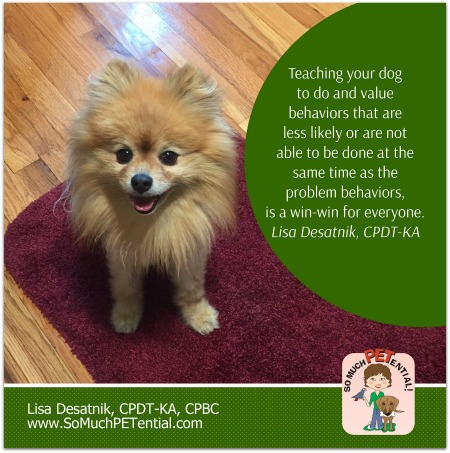 This week seems to be my week for mat work. Twice already I have been working with clients to begin the process of teaching their dog that a mat is a pretty awesome place to hang out and relax, as it is the place where valued stuff happens.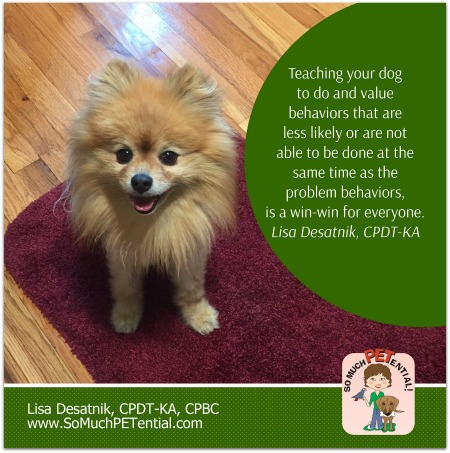 The reason for training these two dogs to go to and settle on their mats is similar and different at the same time. One, a large lab, barks and jumps on guests upon their arrival. The other is a small dog who spends time sporadically during the day at his human's work where he can hear people walking down the hall, car doors opening and closing, voices, telephones, and guests who walk in; and any or all of those stimuli can cause him to bark and run in circles.
In each of these cases, just saying 'No' to the dog, and with the lab, also trying to push him down or away, was not solving the problem. It is frustrating for those who live with dogs.  Why do dogs continue to do things that so clearly are not acceptable behaviors to their human companions?
What gets things of value will be repeated.
One thing is for sure, dogs are not behaving simply to annoy their people. They are simply animals who are doing behaviors that cause valued consequences – from their standpoint. A dog who jumps on visitors may be reinforced by humans that give attention, make noises, move in ways that appear to be play; and also by the dog's own release of energy. There are many potential reinforcers for dogs who bark at noises and stimulus depending on their reason for barking. It could be that from a dog's point of view, barking gets distance from a stimulus, gets attention or food, gets good people to walk in, is a release of energy, etc.
Here is the tricky part. This reinforcement need not occur after every incident of the behavior to maintain the behavior. In fact, intermittent reinforcement is the culprit of just about every (if not all) unwanted behavior that continues. It creates gamblers in learners, and lean reinforcement schedules cause great addicts. In other words, if there is a 1/500 chance that barking will cause a door to open with good people to walk through or get you attention or cause scary things to move away, then the dog will keep trying what works.
This is why, in order to solve problems in the most positive and least intrusive way, a component of your plan needs to be arranging the environment so as to prevent practice of the unwanted behavior. Another component is teaching your dog alternative and/or incompatible behaviors (a replacement behavior) that will get your dog a valued consequence. In doing this, with many repetitions, your dog will come to do the replacement behavior more because THAT behavior is associated with great outcomes.
And this is where the mat comes in. A dog cannot settle on a mat that is a distance from the door AND bark and jump on people at the same time, so we are spending time first teaching this dog to go to his mat, then settling on it, then working up to being able to stay with distractions, and then calm greetings. These skills are being worked on separate from the door before adding the door and real visitors into the mix.
As for the other dog, in just the first lesson there was a marked difference in his behavior in a short period. When he was sitting or laying down on his mat, he was already paying less attention to the noises than when he was walking around the office. When he did alert to a noise, I began teaching them to give him a treat 'before' he got up and began barking. Over time, with enough repetitions of good things (treats) happening after hearing a noise, he will come to have a different emotional response as well. (This is called classical conditioning.) Breaks to go outside and play are also part of his day. (Just part of what we are working on.)
The lesson here is that, when you are frustrated with not being able to stop that unwanted behavior, try thinking about it differently. If you don't like what your pet is doing, then what would you like for your pet to do instead? Now that you can teach!
Can I be of more help to you and your pet? Please contact me! 
If this is helpful to you, please consider sharing it.