I asked Ginger Jones, CCRP, physical therapist at the Care Center animal hospital, about what it is used for. This is what she said: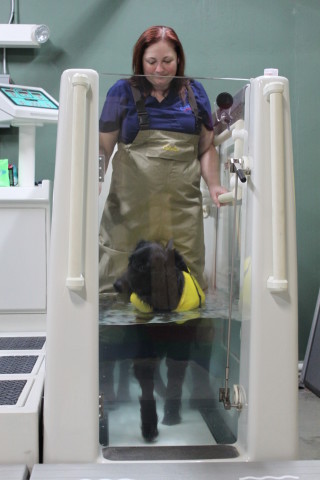 Underwater treadmill has many benefits in many different situations. We use the principles of buoyancy (which allows dogs to exercise in an upright posture and decreases weight-bearing stress on joints), hydrostatic pressure (provides constant pressure which prevents swelling), and viscosity (provides resistance which promotes muscle strengthening and allows for increased sensory awareness) to provide an optimal environment for the dog to work out in. Some benefits of the underwater treadmill are improved endurance, strength, joint range of motion, cardio respiratory endurance, and reducing pain.
Underwater treadmill is effective in the treatment of chronic pain, decreased strength and endurance, recent surgery or illness, injury, arthritis, neurological disorders, and weight management.
If you'd like to learn more, please contact Ginger at the Care Center, 513-530-0911.
About the Care Center:
The Care Center is a 24 hour emergency, trauma and critical care hospital for pets in Cincinnati and Dayton that offers appointments for surgery, critical care, internal medicine, and cardiology as referred by a pet's primary care veterinarian. It also includes an in-house blood bank. Please visit http://www.CareCenterVets.com to learn more about them.
If this is helpful to you, please consider sharing it.