A woman was telling me the other day about how she couldn't understand why her dog 'out of the blue' barked and lunged at someone he sees and solicits pets from all the time. Someone else was telling me about how his dog, that is very friendly, 'out of the blue' growled at a child who walked up to him as they were leaving the groomers.
You may have experienced or witnessed an 'out of the blue' fear reaction in your pet at some point too. It can happen to any animal – even people, but the thing is, although it may seem like it is some strange, rare phenomenon without explanation, there is always a reason for behavior to occur.
That reason may need you to put on your behavior analysis hat to delve into it further. When there is an abrupt behavior change (or really with any behavior), solving it in the most positive way requires looking carefully at the environment to see what changes have occurred that are impacting behaviors.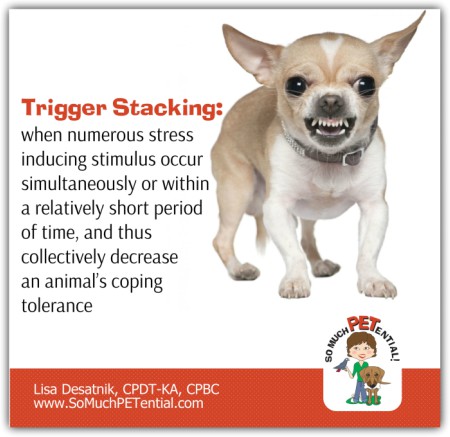 In these cases, one possibility in the first scenario could be that the woman's friend was wearing a hat and the dog is afraid of hats or at the groomers, it could be that the child moved in a way that frightened the dog. While those things, in and of themselves, may not have been enough to push the dogs over threshold to where the dogs lunged and growled, there very well could have been something else at play.
Trigger Stacking
Trigger stacking occurs when numerous stress inducing stimulus occur simultaneously or within a relatively short period of time, and thus collectively decrease an animal's coping tolerance.
It is probably fairly safe to say that trigger stacking is something that all of us have experienced at one time. Maybe you had a day or a week when one stressor after another kept happening. You got into an argument with your best friend that was really weighing on you, then you ended your work day upset about a mistake you made or an unpleasant meeting, then you realize you locked your keys in your car and after waiting for AAA to come unlock your doors you get into bumper-to-bumper traffic on your way home. You are tired. You are irritated. Your muscles are still tense. And then, when you stop at the grocery store on your way home and the person in front of you in the checkout line needs to have a price check, you – someone who never loses your temper – yell out in frustration, "Come on. This is ridiculous. Why don't you have enough help in this place?"
This is trigger stacking. For a dog, there are so many ways in which this could look. Stressors may include medical issues (a pain, upset stomach, allergies, etc.), lack of sleep or rest, a vet visit (with numerous stressors), having a collar pulled, a leash pop, vacuuming, a thunderstorm, yelling, chasing or pestering children, loud noises, over exposure to large crowds, lack of control, etc. There are so many examples to list here.
Any one of those stressful events, when occurring individually may be tolerable for that animal (depending on how stressful that event is), but when they occur in close proximity, there is a cumulative affect that causes a greater likelihood of going over a threshold – and, in a dog's case, causing a reactive response. It could take as long as 8 hours or even more for the body to recover from the release of hormones, depending on the stress level.
Tips for preventing, recognizing, and helping your dog when it comes to trigger stacking.
Learn how to understand your dog's body language. Your dog may communicate in very subtle or very obvious ways that it is stressed. A few examples to watch for include yawning, raising of one paw, stiffness in body muscles, lowered and tucked tail, avoidance behaviors (or straight stare at trigger), lip licks, or growling. Please click here to see my post with video links on dog body language.
Get to know what triggers are for your dog. And of note here, triggers do not necessarily need to be events that cause anxiety in your dog. Rambunctious play and a houseful of guests to socialize with cause different kinds of stress but still stress. Triggers also may be less obvious such as a change in routine, hunger, or lack of sleep. Other factors that contribute to trigger stacking include closeness, intensity, and duration of a stimulus.
Practice prevention and management. If your dog experienced a stressful event, provide it with a quiet alone place that is void of stress. If you are having guests over and you know your dog can become nervous around new people or children, keep your dog in a place where it does not have to interact. Avoid bringing your dog to large crowds or dog parks if those settings can be stressful. Practice ahead of your vet visit strategies for teaching your pet positive associations with going to the doctor. These are just a few ideas.
Remember, you are your pet's advocate. Cumulative stress lowers your pet's tolerance, and thus bite threshold. Please remember, you are your pet's advocate and do what you can to reduce stress. Your pet – and everyone with whom it comes in contact – will thank you.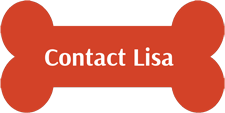 If this is helpful to you, please consider sharing it.