When I visited this sweet little West Highland Terrier puppy over the weekend, she showed her excitement for greeting me by jumping on my legs and wagging her tail. And, as precious as she is and as glad as I was to see her too, I stood very still and she actually sat pretty quickly. I'll tell you what I did in a minute, but first…
Her human wanted to know, "Aren't you going to tell her no?"
My answer to her was, "no."
And here is why. Telling Maggy no would not have solved the problem. In fact, Maggy has more than likely been told no before and she continues to greet people as she knows how. Maggy isn't wrong. She is simply a puppy who is reacting to the moment and doing what has gotten her something of value in the past. Jumping on people gets them to give her attention, to move and laugh and even make loud noises. For a little girl with a lot of energy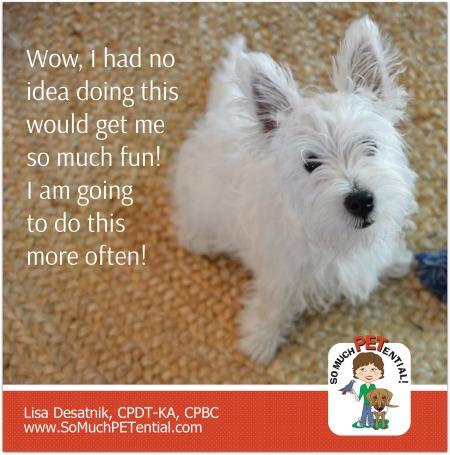 to burn, those are pretty high value reinforcers for greeting people as she does. Not to mention the reinforcer of her own mental and physical stimulation.
If telling her 'no' and pushing her away has not stopped her excited greeting behaviors, then you are actually reinforcing her for those behaviors instead since the behaviors are strengthening. Oh my!
But on the other hand, if telling her 'no' actually had worked to lessen the likelihood of Maggy jumping on people, then here are some of the potential dangers of that kind of puppy training strategy with punishment. It does nothing to foster a love of learning. In fact, animals that are taught with aversive training will likely behave only to the level to avoid that negative consequence. It can create apathy, fear, anxiety and even aggression in the learner. YOU can become associated with that aversive consequence. And, it does not teach the puppy what it is you want it to do instead.  Additionally, remember that young puppies are developing very quickly. Negative experiences they encounter during their sensitive period can have long term impact on their development as an adult dog.
What did I do instead?
As soon as Maggy sat down, I immediately said, "Yes!", and gave her one treat after another. Then I moved and she followed, and sat in front of me. I told her that magic word and this time tossed a treat. She ran to the treat, then ran back…and SAT! We played this game for several minutes before taking a break to go outside. When she came inside, we switched it up. After saying, "Yes!," I ran a few steps for her to chase me. Other times after saying, "Yes!", I grabbed a toy and moved it around.
I could just hear Maggy saying to herself, "Wow, this is so cool! All I have to do is sit and I have the power to make people run, toys to move and treats to rain from the sky. I'm going to sit a lot!"
And that is the incredible thing about training with positive reinforcement (with consistency and good timing). You see very strong behavior frequencies because those behaviors are associated with great outcomes.
There was a gate separating the kitchen area where Maggy was and the dining area. After going to get something, when I returned, there was Maggy wiggling her little body on the other side of the gate. She jumped a few times and then you could see her thinking, "OH, I've got this figured out. If I sit, I can make Lisa step over the gate!!
What a brilliant girl!  She sat and I tossed a treat behind her and then stepped over the gate.
Puppies are such little sponges for learning. There is so much you can teach them in the context of fun. Why even begin down that journey of using aversives?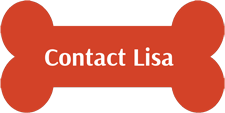 If this is helpful to you, please consider sharing it.