Can you relate to the photo? Over and over my mom tells Sam to go away when she sits on the sofa at night and he looks at her this way, but he knows better. If he persists, eventually she will get up and get him a chew toy.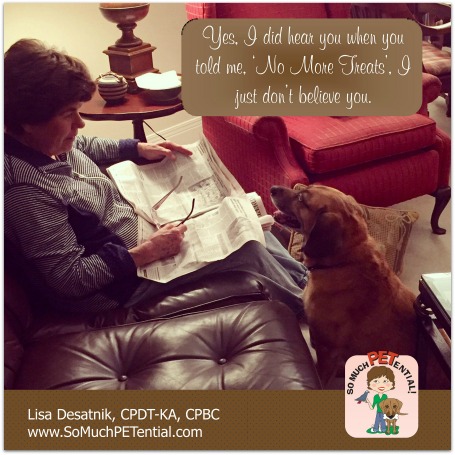 Sam, like all our pets, is no dummy. He knows his behavior can get him a consequence he wants. No matter how many times I talk to my mom about it, she will continue her pattern…and as a result, so will Sam.
If she REALLY wanted to solve this, some ideas include:
She could use management, like keeping him in the kitchen behind a gate, when she wants to sit on the couch at night.
'Before' Sam begins his staring behavior, she could give him a longer lasting chew toy that he values. When he is focused on something else, he is not focusing on staring at my mom.
'Before' she sits down on the couch, she could play some games with him or engage him in training which would cause him to value resting more and staring at her less when she sits on the couch.
She could teach Sam to do another behavior when she sits on the couch like laying in his bed.
AND, while doing these things, if Sam should still sit in front of her and stare, she should stand up, be a tree and ignore him….giving no value at all to the unwanted behavior.
Remember, our pets are always making decisions based on where the value is for them. By making the wanted choice, the most valued choice for our pet, they will choose to do the wanted behavior. And that is good for everyone!
Can I be of help to you and your pet? Please contact me! 
If this is helpful to you, please consider sharing it.