I think my parents are among the only dog companions who actually find joy in watching our Sam stand with his two front paws on the kitchen counter in search of dinner leftovers. For others, this behavior known as counter surfing is generally not welcome.
I have heard a lot of complaints about 'bad' dogs who persistently are in search of higher surfaces. But, before I talk about solutions, let's talk about labeling these dogs. Are these dogs really being bad? (And what does bad really mean?) Or are they simply doing something very natural to dogs…using their senses to seek out food?
Let's look at this from a behavioral analysis perspective briefly. Remember that all behaviors that are repeated, and even st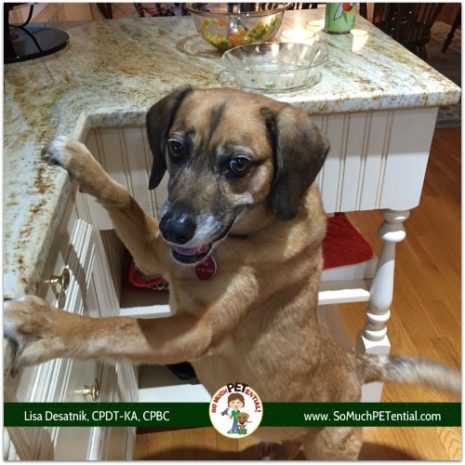 rengthened, are occurring because there is a reinforcement history in place. And, also intermittent reinforcement – meaning sometimes a behavior works to get a valued outcome and sometimes it does not – is the maker of extremely strong, persistent behavior as it creates the gambling effect.
That being said, if there is a super smelly, super tasty piece of food on a counter, your dog is very likely to put its paws up onto the counter to try and get it. After all, in addition to the ultimate possible outcome of getting that food, your dog is also being reinforced by the activity itself. Think about the value in providing your dog with a food enrichment toy and how focused your dog becomes on working to get the food out. It is exercise for its mind and body, and it is downright fun for your dog.
With an activity that has the potential of bringing so much value to your dog, think now of your expectations that your dog naturally ignores the counter just because you want it to. Behavior, unfortunately, does not work that way.
Using aversive strategies, as I remind frequently in this blog and in my training, are not my choice for a solution. Firstly, as is the case in any training, the timing of your consequence needs to be immediately after the behavior and it also needs to be strong enough to weaken that behavior. But, also, teaching with aversives can have so many potential negative ramifications including that it can create fear, apathy or even aggression; it does not help to teach the learner what to do instead; and YOU can be come associated with those aversive consequences.
What is a better solution?
Thoughtfully Arrange The Environment
An antecedent is a setting event for a behavior to happen. A piece of steak or other tasty food within reach can absolutely be an antecedent for your dog's behavior of counter surfing. If there is a piece of food on the counter, *then* you can predict your dog will put its front paws there.
Keeping in mind that your goal is for your dog to NOT have any practice of the unwanted behavior (and reinforcement for that behavior), think about what you can do to manage the environment so as to not set the behavior into motion to begin with. Some ideas include having your kitchen gated off so as to prevent those paws from being close to kitchen counters when humans are not watching, and providing your dog with another activity such as a food enrichment toy while you are preparing dinner.
Add No Fuel To That Fire
Additionally, it is important to have a plan that *if* mistakes happen (which may occur), that reinforcement is not available or greatly minimized for your dog's behavior of putting its paws on the counter. A house rule of NO food left on counters is always good to have in a home with a dog prone to searching it out. Also, note that your attention to your dog after the behavior is set into motion may just be another reinforcer.
Teaching an Alternative Behavior
Remember that your dog is going to make a choice based upon where the value is for it. If you teach your dog that going to its mat, for example, is huge value because when it goes there great things happen….like a piece of that terrific meat lands between its paws, while you remove the value of counter surfing (by keeping food away) – which choice do you think it will learn to do if its goal is to get something of value? As your training progresses, you can put that mat behavior on an intermittent reinforcement schedule.
Building value for alternative wanted behaviors can also be captured by keeping your eye out for your dog making the choices you want to see, and reinforcing those decisions.
The great benefits to teaching this way are they are adding more enrichment to your dog's life, teaching your dog what you want it to do, and strengthening your relationship.
If this is helpful to you, please consider sharing it.