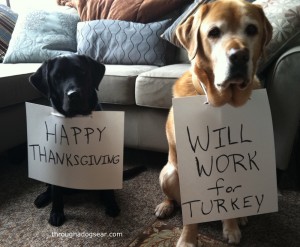 Our Thanksgiving meal is my favorite of the whole year. Yes, much of that is because of the company I am surrounded by. But also, there is SO MUCH incredible food!
I want to remind you, however, that not all Thanksgiving food is good for our dogs. Below are some things your dog should avoid:
Rich, fatty foods (turkey skins, gravy, etc,) as these can contribute to pancreatitis – an inflammation of the digestive gland that is painful and can be serious–requiring emergency veterinary assistance.
Cooked bones that can splinter
Baking strings from the turkey
Onions (used a lot in holiday stuffing) that can lead to canine anemia
Grapes and raisins whose toxins can cause kidney failure in pets
Chocolate is an absolute no-no as it can cause death
Caffeine and coffee are also toxic
Cake batter that has raw eggs
Bread dough that expands in your dog's stomach and causes pain and bloat, which is fatal unless treated IMMEDIATELY