Last weekend, hundreds of dog trainers (actually probably upwards of close to 1000) from across the country converged on Covington, Kentucky. It was the very first time that the Association of Professional Dog Trainers (APDT) has held its large annual conference here and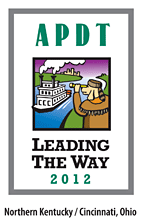 I was fortunate to be among the attendees. I attended three of the five days. Not only did I learn a ton from some of the top and most respected professionals in the business, it was also an opportunity to meet highly skilled trainers who believe as I do in the power of positive reinforcement.
I'll be writing about and referring to the conference in numerous posts.
Training Tips from Susan Garrett
What an amazing opportunity it was that the very first lecture I attended was a three hour presentation by Canada's Susan Garrett, owner of Say Yes Dog Training, from whom I had taken an online course, the Five Minute Recall. Susan is one of the most successful dog agility competitors of the last decade. She is also a member of one of the fastest flyball teams in the world.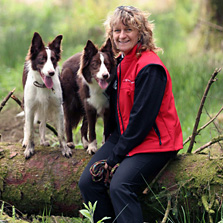 Susan gave us so much information. She also shared these tips for success:
 Be the Keeper of the Joy.
"Training is just building joy for what I do want, while controlling access to reinforcement for what I don't want. Be sure you build yourself into all reinforcement."
 Take regular reinforcement inventory. Ask yourself – where is the value?
Know where you are and where you would like to go. Develop an 'it is what it is' attitude.
"When I look at my dogs, all I see is greatness. It's up to me to show the world."
 Let average or better be your guide.
Plan for failures and only reward responses that take you closer to your goals.
Use arousal to develop skills that are resistant to distraction.
Don't train in a sterile environment. Deepen your dogs understanding of your cues and his responses by cranking up the excitement level. A brief game of tug or chase will break things up and keep him excited. Make your dog say to you, 'don't wanna don't have to' and work through it.
 And remember…
The more time you put into your puppy in its first 12 months, the more joy you will get out of him for the next 16 years of life.
About APTDT
The Association of Pet Dog Trainers (APDT) is a professional organization of individual trainers who are committed to becoming better trainers through education. The APDT is dedicated to building better trainers through education, promoting dog-friendly methods and encouraging their use.  Our membership is composed of trainers from across the spectrum of training philosophies who have an interest in furthering their knowledge of positive training.
If this is helpful to you, please consider sharing it.