The other day I was overhearing a woman giving advice to another woman on her puppy's naughty and very irritating behavior of biting at her ankles and pants when she walks. The advice was to yell at the puppy (take pants out of the puppy's mouth) and tell the puppy to sit when it happens.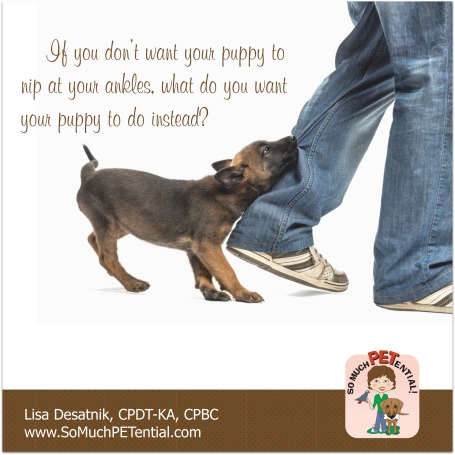 Hmm, here is the thing. Usually when I hear people talk about 'trying' to solve that behavior problem in that way, they keep having to yell at their puppy because the puppy does not stop doing the behavior.
Why? Well, remember, animals are always using behavior as a tool to get a consequence of value to them. If a behavior is reoccurring, then that behavior is working for the animal. In this case, the potential list of valued consequences for the puppy or dog could be among other things attention, mental and physical stimulation, or sensory stimulation (having pants in his mouth).
Generally speaking, although each dog is an individual, herding dogs are more genetically wired to do this but any dog or puppy can. Among the many dogs in which I have seen the nipping at ankles and pants behavior were a puppy vizsla, german shepherd, labradoodle, great dane, and just this past weekend, a puppy King Charles.
In each situation, I was able to stop the unwanted behavior by focusing on teaching the puppy more acceptable behavior choices instead.
Why isn't punishment enough to stop behavior?
Before I write about what I did to modify behavior, I wanted to address why scolding a puppy for this (or any unacceptable behavior) is not your best solution. For one, if you have tried that in the past and your puppy is continuing the behavior (meaning, later on will go back to doing the unwanted behavior) then the yelling, attention and perhaps moving of your body may actually be of value to your puppy instead of an aversive. Or it could be that in the scheme of things, the nipping at your ankle is SO valuable to your puppy that it trumps any negative association with your yelling at him.  Another possibility from my example above is that, if you have taught 'sit' as a behavior that gets your dog lots of positive reinforcement, then asking your dog to sit immediately after your yelling and removing his mouth from your pants, can become a reinforcer for nipping at your ankles.
On the other hand, if your yelling at him does work to reduce the frequency and/or intensity of your puppy's unwanted behavior, then I'd have to ask, at what cost? It most certainly does not teach your pet what he should do instead. Just a few of the potential negative ramifications of using an aversive teaching strategy are that it can cause apathy, generalized fear, counter aggression and escape/avoidance behaviors. Punishment requires escalating the intensity in order to maintain that suppression, and ultimately the teacher then becomes associated with those aversives.
Puppies, dogs, even birds and other animals did not join our lives inherently knowing what behaviors are and are not acceptable to their human companions. Those are things we need to teach them with fairness.
Solving nipping at ankles
Okay, so let's look at how to solve the problem in the most positive way.
Firstly, with every behavior it is important to look for two things – what is happening in the environment to set the ankle/pant nipping behavior into motion in the first place and what is the immediate consequence of that behavior that is maintaining or even strengthening it. Then, think about what you can do to prevent practice of that behavior (and getting reinforcement for it) while also building value or teaching a different, more acceptable behavior with lots of positive reinforcement.
With each puppy it can be different. If your puppy is likely to go for your pants or shoes during play, make sure that you have acceptable toys in hand to direct your puppy to playing with them instead of focusing on human legs. I like to engage in constructive play with puppies meaning I am teaching behaviors and self control through play….for example, when they sit, then the toy moves. If you can't be actively engaged with your puppy (but always you are actively supervising), then another alternative is an interactive toy that keeps his attention like a food puzzle toy. And if active supervision is not an option at that time, then the best place for your puppy is a confinement area like a crate or x-pen so as to prevent your puppy from engaging in unwanted behaviors.
If your puppy tends to grab your pant leg as you walk, think about what you want to do and focus on that, but before your puppy grabs your ankle (because with each practice of grabbing your ankle, your puppy is gaining a reinforcement opportunity for the unwanted behavior). I will slow down as much as needed for that particular puppy and will even begin with marking (with a verbal 'yes' or click) and reinforcing the puppy for standing at my side while I am stationary, and continue to mark and reinforce being at my side with his head up as I move. I'll only gradually move quicker as the puppy tells me through his ability to continue to walk at my side with his head up, that he is learning the behavior I want to see. If at any time the puppy goes to bite my ankle, I become a tree so as to avoid giving any reinforcement for the unwanted behavior; and then, I adjust my plan to go slower so as to help the puppy succeed.
My challenge to you is this: Instead of thinking in terms of what your pet is doing that is bad from your perspective, think about what that behavior is getting him and what you can teach him to do instead. And, as always, have fun!
If this is helpful to you, please consider sharing it.