I'd like to introduce you to Lacy, a sweet Pitbull who believes whole heartedly in the concept of pay-it-forward by freely giving of her love to those who have shown her kindness.
Sadly, she wasn't always surrounded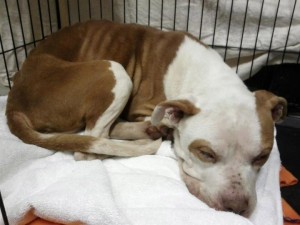 by people who care. Lacy made headline news earlier this year when a Brown County farmer found her near skeletal frame under a pile of lumber, clinging to a life with an unknown future. Her emaciated body was near frozen from the harsh ice storm. She had a fractured skull, an ulcerated eye and a head swollen from infection.
Authorities figured her skinny 27 pound frame was discarded after she was likely used as practice for bigger, stronger dogs trained for illegal fighting. When Lacy was brought to the Brown County Animal Shelter, her teeth were filed down, her body was covered with old scars, and she needed surgeries to remove the remnants of bullets.
 A grudge? What is that?
The hearts of animals just amaze me. Such a powerless victim of senseless brutality should have no reason to trust humans again. But here she is a beautiful, plumped up girl who is eager to find her forever home where she can share and embellish love.
While her story began in an ugly place where evilness and hatred surrounded her. Those who have come into her life since that frigid day that she almost didn't survive have more than saved her life. They have taught her that there really is good in this world. There a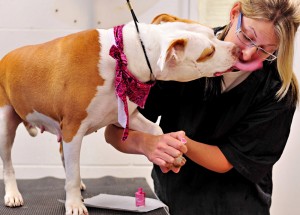 re people who care and who can be trusted, and who want to see her thrive. And to each person who shows her some kindness, she gladly pays back with dogs kisses.
Lacy was a recently winner of Phodographer Carolyn Evans'  Extreme Doggie Makeover. Here she is being pampered by the groomer at Best Friends Pet Care of Cincinnati. And the happy studio picture below was taken by Carolyn to help Lacy find her forever home.
You can meet Lacy through the Adore-A-Bull Rescue group. You can even make her a part of her family.
And, if you do, I'd love to share your story.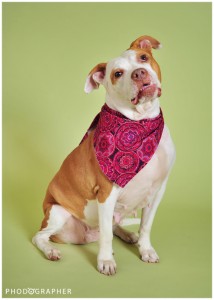 If this is helpful to you, please consider sharing it.