I was out somewhere and I saw it again. A man was in a busy area with his dog doing his best to try and keep his dog's focus from the external environment, only his attempts were not working too well. His dog continued to pull on leash, and with each pull the man gave the collar a jerk and said, 'No!'. It was obvious the man was frustrated with his dog.
"Ugh, my dog is so bull headed, stubborn, dominant, or bad," would be words I am sure he would have told me had I asked.
But was this really the case?
Well, what I saw was a dog who clearly viewed her environment as having much more value than listening to or sitting at the feet of her owner. The environment was so valuable, that even the jerking of the leash, which was intended to be a positive punisher to lower the probability of the leash pulling behavior, did not give the dog reason to stop reacting to what was going on around her.
Ironically I had just come from working with another dog and his owner on a very similar issue. However, in just a few minutes time the dog I was working was focused on me and sitting at my side, and able to look at the environment only to turn his head back to me.
What did I do differently?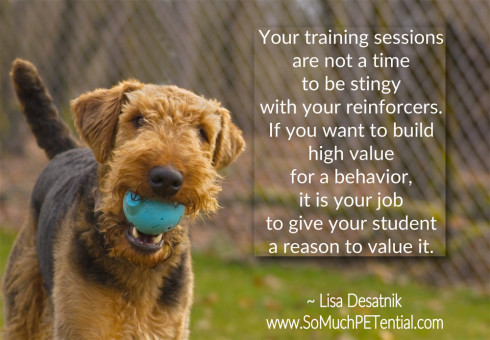 One of the things I did was I focused on what I wanted the dog I was working with TO DO instead (which was sitting at my side), and rapidly marked and reinforced wanted decisions on the part of my student to give immediate, successive feedback to him. I wanted to make the wanted behavior of huge value to my student by making the lesson fun and engaging for him.
When I teach clients about clicker training or moment market training (whether you use a clicker, verbal or other marker), I teach them the importance of a rapid reinforcement schedule in the beginning. The more opportunities you have in a short training session to let your student know, YES, that was a correct decision, the more your student is going to want to pay attention and learn from you – or at least learn what you are intending to teach.
Your training sessions are not a time to be stingy with your reinforcers. If you want to build high value for the behavior you are teaching, it is your job to give your student a reason to value it. Remember, when you teach by choice, your pet is going to do the behavior that experience has taught him/her gets him a consequence he/she wants. Give your pet many reasons to CHOOSE the behavior you want to see.
If this is helpful to you, please consider sharing it.