I have said many times, when you are teaching your pet a behavior skill, knowing what it is that YOU are looking for in that behavior skill is going to be extra important in being able to teach your pet with clarity.
Another word I use when talking about what I am looking for is 'criteria'. If you do not know what criteria you want to see, how can you expect for your pet to know? For example, does coming when called mean coming and standing in front of you or sitting or does it matter?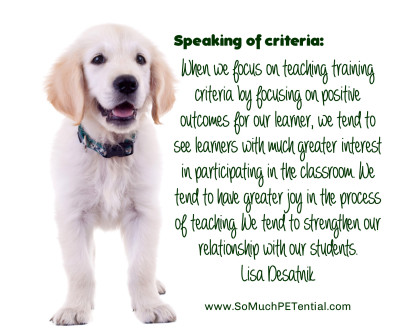 But let's talk for a minute about that word – criteria. What exactly does that mean? Well, according to the business dictionary, its definition is: an agreed upon benchmark for assessing the success of a training program.
Hmm. Okay, so let's give that some thought when we think about success. Success is accomplished by achieving something. In training that comes from many, many repetitions of positive practice – meaning practice with positive outcomes or said another way, practice of a behavior with valued consequences.
When we focus on teaching those training criteria by focusing on positive outcomes for our learner, we tend to see learners with much greater interest in participating in the classroom. We tend to have greater joy in the process of teaching. We tend to strengthen our relationship with our students.
So have fun with the process…and your pet will have fun too!
My challenge to you today is to ask yourself – "How can I make learning what I am teaching more valuable and more fun for my pet?"
If this is helpful to you, please consider sharing it.