I've written about so many topics relating to strengthening your ability to teach and your dog's ability to learn. I got to thinking, if I were to create a recipe of good habits for building success in the classroom (which, by the way, is anywhere where you happen to be teaching) what would be the ingredients?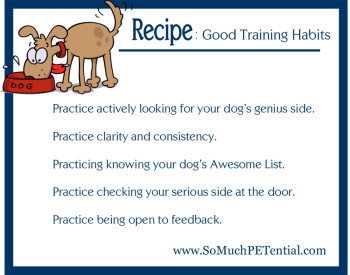 Here are my top picks:
Practice actively looking for your dog's genius side. It is in there, trust me. Every waking moment of everyday your dog is responding to stimulus in his environment and his repeated behaviors are the ones that get him something of value. By paying attention to catching those behaviors you want to see, you will see more of those behaviors.
Practice clarity and consistency. Remember, as your dog's teacher his ability to learn has a lot to do with your ability to provide him with clear feedback on your expectations. Know what you are looking for and do not waiver (although when you are shaping behavior, know that you may need to adjust the steps in getting there depending on how your dog learns).
Practicing learning and paying attention to what is on 'your dog's' List of Awesomeness. Remember, when you train using positive reinforcement the student always gets to choose where the value is for him. If you want to build value for a behavior, teach your student to associate that behavior with a valued consequence.
Practice checking your serious side at the door. When you and your dog have fun together, it makes teaching so much easier. Think about training like a game and it will put you in a different frame of mind. Teach your dog by building joy into the lesson. You will get so much more focus from your student, who won't even realize he is in class!
Practice being open to feedback. If your student is not getting the lesson plan, that is feedback to you that you need to alter in some way. Maybe you are asking for too big of steps, are not having a high enough value reinforce, are not clear in your criteria, are working amidst too many distractions. There are a number of reasons your dog is giving you that feedback. Be open to it and flexible to adapt.
If this is helpful to you, please consider sharing it.