Calling all Greater Cincinnati dog and home owners!   If your front landscaping is well, in need of a lot of updating, I want to tell you about an exciting opportunity. I heard from the casting producer for DIY Network's Desperate Landscapes. They are looking to transform a Greater Cincinnati front yard needing lots of TLC into a  'dog friendly',  beautiful attraction with non-toxic plants, and possibly even a fountain accessible to your favorite pooch.
Desperate Landscapes pay for the construction materials, the plants and the paint. They only ask that the homeowners bring personality and sweat equity (willingness to help with the work).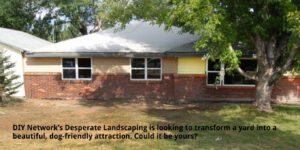 Could this be you or someone you know? Please help me spread the word. Here is a link to the application.
If this is helpful to you, please consider sharing it.