Funny how fate works sometimes. It was a night like so many before it for Barbara Lichtenstein. At least that's how it started off. She was in her car, having just turned onto the busy intersection at Springfield Pike heading toward choir practice when she saw him…a four-legged homeless dog who clearly hadn't eaten a homemade meal in quite some time. He had bristly fur, rotted teeth, and lumps that Barbara later learned were cancerous.
Barbara, being the animal lover that she is, pulled over, put him in her car and went on to her practice – bringing him inside with her. That night, she learned, he was also a classical lover. As soon as they began to sing, all of his fear of the unknown magically disappeared. "To this day, when he gets fussy in the car, I turn on classical music," she told me.
Several surgeries, good food, and a houseful of love have seen little Ajax blossom into an affectionate companion who seeks out his family just to know they are there. That family also includes Charlotte, a feminine (as Barbara describes her) and sweet little girl who was also found abandoned and who tolerates sharing favorite humans with Ajax.
Barbara Finds The SPCA
It was a number of years back. Barbara was studying architecture and decided not to continue. She has another, more important reason to work. "I've always been a dog lover. I grew up with dogs and I thought it was time to step up and do something for them," she said.
She and her husband, Phil, gave the SPCA a donation when they were building the new shelter and that very quickly evolved into volunteer work. Three years ago she got involved with the organization's big fundraiser – the Fur Ball. One year she chaired it and this is her second year serving as co-chair (with Holly Mott).
The Fur Ball
Held at the Cintas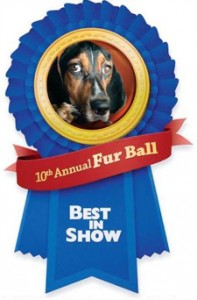 Center, April 28, the dinner/dance Fur Ball  will be an evening of dinner, dancing to the music of Airwave, a silent auction, and a 'Best in Show' dog show with animals from the shelter. There will also be dogs and cats there available for adoption.  For animal lovers, it is a fun event for a great cause.
The SPCA Cincinnati serves Hamilton County and the City of Cincinnati covering over 500 square miles and is the oldest humane society in Ohio. Last year, it handled around 18,000 animals. Good homes with concerned, qualified families were found for thousands of these animals.
Efforts are continually being made to improve its adoption rates. Barbara told me the adoption fee is just $20 and that includes spay and neuter. Proceeds from the Fur Ball will help the SPCA keeps those adoption fees down so that more people and more animals in need of love can find each other.
A few seats are still available for the Fur Ball. Cost is $150 per person. To register, please visit www.spcacincinnati.org.
If this is helpful to you, please consider sharing it.