(from my Hyde Park Living column)
Last month I explained the ABCs of behavior and we can use them as the most positive, least intrusive way of managing and modifying our pet's behavior. This month I thought I'd show you a little how it works.
First, let me recap. Applied behavior analysis is a systematic approach to solving behavior problems by changing the environment in which the behavior occurs. It involves looking at the very specific behavior (such as a bird biting or screaming) and the related environmental context that signals and reinforces it. We ask, "What happened *immediately* prior to the behavior (antecedent) to set the whole ball rolling?" And, "What happened *immediately* after the behavior to reinforce it (consequence)?"
I'm going to use the example of our family dog, Sam, who has an earned reputation for pawing my mom when we eat or standing with his two front paws on the table looking for a prize. For the purpose of this column, I will label that set of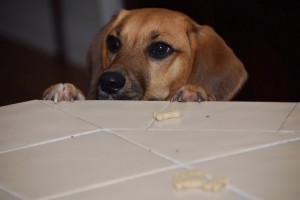 observable behaviors as 'bad table manners.'
The setting event for 'bad table manners' is our sitting around the table with food. The consequence may be any number of things…my mom trying to ignore him but sometimes hugging him, sometimes telling him he's bad, sometimes giving him a treat. You get the picture?
Since I know under what conditions his behavior is highly predictable, I can decrease the value of that behavior with antecedent strategies. I can play rough with him just prior to our sitting down to get him tired and less motivated to have 'bad table manners.'  I can (and always do) make him a foraging toy that he only gets before we eat and that keeps him busy for awhile. (I break up pieces of treats, and intertwine them in knotted plastic grocery bags that are then stuffed into a heavy rubber ball.)
Another thing I have done was teach him an alternative behavior (actually he knows a lot of behaviors) that, when we are sitting at the table, he knows in black & white terms that *if * he does that behavior next to me – which I chose as sitting or laying down – *then* he will get reinforced with attention and small pieces of food. (Okay, I admit I feed him some at the table but only when he is doing a behavior I taught him is acceptable.) At the same time, I have removed all positive consequences of his bad table manners (which meant when he jumps or paws, I simply turn my back and push my plate to the center of the table).
Guess which behavior he does more of now? Heck, if I were him and I REALLY wanted a taste off that plate, and knew the only sure fire way of getting a sample was to sit or lay down, I think I'd choose to sit or lay down too. And I'd do it pretty darned fast.
What is so wonderful about this is that punishment never had to be used, only empowerment. Sam has learned to succeed because I am clear cut in teaching him what I want him *to* do and because I make learning fun. Let me say that again.  At every step along the way…learning is fun.
To read part one, please click here.
If this is helpful to you, please consider sharing it.